Granite Countertops in Myrtle Beach Homes: Are They Worth It?
Posted by Rob Flint on Monday, February 27, 2023 at 2:28:24 PM
By Rob Flint / February 27, 2023
Comment
Granite countertops are the most popular choice among homeowners when it comes to upgrading and remodeling their kitchens. But granite countertops can be a big investment with varying costs depending on the type, quality, and design.
So, is granite worth it for Myrtle Beach homes?
As Myrtle Beach realtors, we encounter many buyers who specifically mention granite countertops as a priority on their dream home wish list. At the same time, we field many questions from sellers and potential sellers concerning whether or not having granite installed will increase the value of their home.
In this blog post, we'll discuss granite countertops and the potential they have to increase a home's value and other considerations buyers and sellers in the Myrtle Beach market should be aware of.
Benefits of Granite Countertops in Myrtle Beach Homes
Purchasing granite countertops for your Myrtle Beach home can have a number of benefits. Granite is known for its durability and longevity, making it an ideal choice for heavy-use areas like the kitchen. It's also highly resistant to scratches, chips, and stains.
Plus granite offers a wide range of colors and patterns, from subtle and sophisticated to bold and dramatic, which can add personality and pizzazz to any kitchen. And with proper care and maintenance, granite countertops can last a lifetime.
Another big benefit of granite countertops is that they can potentially increase the value of your Myrtle Beach home. Consistently listed among the most sought-after kitchen upgrades, granite countertops can give your home a little boost on the market and raise its appeal to buyers with specific wants.
That being said, granite isn't always the best choice for every buyer. So it's important to understand the cost of granite countertops and their value before making any decisions.
Cost of Purchasing & Installing Granite Countertops in Myrtle Beach
The national average to purchase and install granite countertops is $3,250. This figure takes into account the average cost of $50 per square for lower-grade granite and $150 per square foot for higher-grade granite, plus the cost of installation.
The granite itself will vary in price based on type and quality desired, but granite is generally considered an affordable and cost-effective material. Installation costs depend on the size, complexity of the project, and type of granite chosen, but experienced professionals are essential for a successful granite countertop installation.
It's also important to remember that granite countertops must be sealed every 1-2 years in order to maintain their color and integrity. You can expect to pay $200 to $350 each time you get your countertops resealed.
Before you commit, compare granite options and prices from different suppliers so you can make an informed decision, and talk to granite installers near you to ensure that your granite countertop installation runs smoothly. With the right information, granite countertops in Myrtle Beach homes can be a great investment that increases your home's value and adds beauty to your kitchen.
If granite isn't the right choice for you, there are other countertop materials with different price points and characteristics that may be a better fit, such as quartz, butcher block, or marble.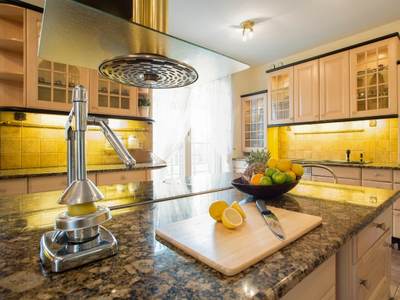 Do Granite Countertops in Myrtle Beach Always Help Sellers Earn More?
The honest answer is no. While granite countertops can be an attractive feature and help your home stand out on the market, the increase in your home's value may not always cover the cost of purchasing granite countertops.
It's important to remember the old real estate adage: you won't necessarily recoup the full value of an upgrade when it's time to sell your home. So if granite is something that appeals to you, do it for yourself and not necessarily for its potential to add value.
As part of a broader kitchen upgrade, granite countertops can be a wise choice that increases your home's value. If granite is part of a larger renovation, such as new cabinets, fixtures and appliances, it can be a very valuable addition to your Myrtle Beach home.
At the end of the day, granite countertops are an investment in your Myrtle Beach property that can increase its value and appeal on the market. They are also a beautiful addition to any kitchen, which can make them worthwhile even if they don't add significant financial value.
Advice for Buyers
Shopping for homes with granite countertops? It's important to remember that granite is just one factor in the home-buying process, so prioritize your overall needs when making decisions. Look for granite countertops with no cracks, chips, or stains and check if they have been sealed recently.
Also consider other features of the property before you commit to granite countertops as a deciding factor. Does the home have a good layout? Are there any additional features or benefits that you haven't considered yet? Don't get too hung up on granite countertops and miss out on other important details about the house.
Looking for granite countertops in Myrtle Beach homes? The real estate agents of Right Find Homes can help you find just what you're looking for. Contact us today to learn more!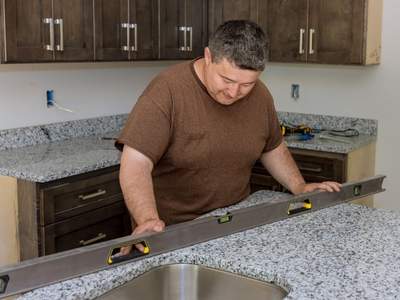 Advice for Sellers
If you're getting ready to sell your home in Myrtle Beach, granite countertops can be a great selling feature for potential buyers.
Make sure that granite countertops are in good condition, with no chips or stains, and consider having them resealed if necessary. Also take the time to clean your granite surfaces thoroughly before you start showing your home. A quick cleaning will make granite look even better, helping it to stand out and potentially increasing the value of your home.
When listing your home, make sure your agent highlights your granite countertops in the marketing material to catch the eye of potential buyers. Ensure your listing photographs capture granite countertops in the best light, and consider staging your kitchen to make granite stand out.
If you don't have granite countertops in your kitchen, but are considering the upgrade to increase your home's value, it might be best to leave your countertops the way they are and focus your improvement funds elsewhere (there are some smaller upgrades that offer bigger payoffs.
Installing granite countertops can cost more than you would get back in increased value, so it might not be worth the cost for a Myrtle Beach home.
Final Verdict
Granite countertops can be a beautiful addition to your Myrtle Beach home, adding value, aesthetic appeal, and character to any kitchen. If granite is part of a larger renovation or upgrade project in your kitchen, it can be a worthwhile investment.
However, granite countertops are not always necessary to increase your home's value, and the cost may outweigh any benefits. It's important to weigh granite countertops against other features of your Myrtle Beach home when making decisions about improvements or selling points.
Looking for granite countertops in a Myrtle Beach property? Contact a Right Find Homes agent today! We scour the market to find homes with granite countertops that match your needs and budget. Let us help you find the perfect home for your family and the kitchen of your dreams!